Anonymous Message Preview and Channel Preset
Preview and edit anonymous messages before sending them and a more intuitive way of using /anon commands.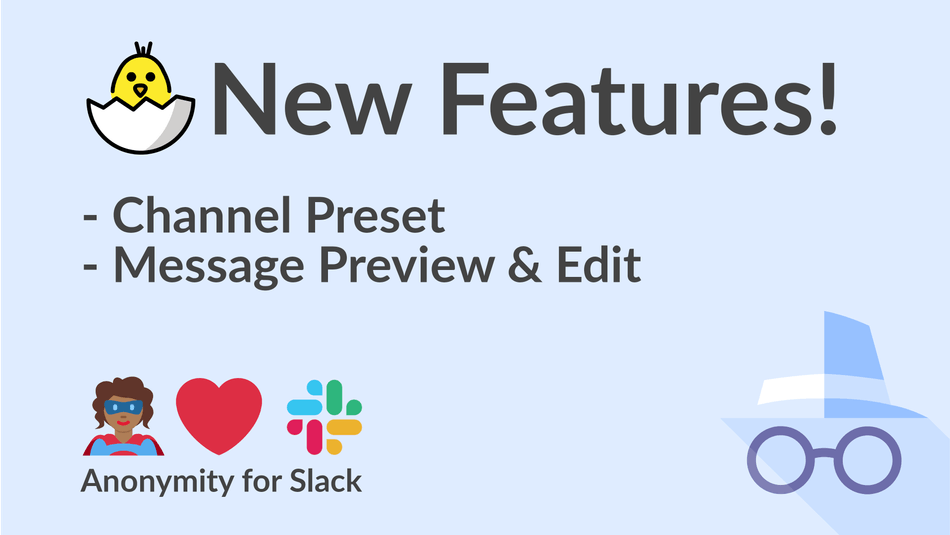 One of OpenSay's most loved features is the ability to quickly send an anonymous message in a Slack channel with a single one line command, e.g.:
/anon #general Hello World!

That being said, when a user wants to post an anonymous message in a specific channel she most likely have that channel already opened infront of her.
This raises a question, can't we simply infer the currently opened channel and avoid having the user type the channel name for each anonymous channel message?
Introducing: Automatic Channel Preset
We are happy to introduce a new flow, one that allows you to avoid having to type the channel name and make OpenSay automatically preset the channel for you!
Simply open the channel where you'd like to post an anonymous message and type:
/anon Hello World!

Voila! the channel is preset for you.
Automatic channel preset also works for anonymous polls - /anon poll and with /anon post.
We captured the entire flow in a video for you:
Introducing: Anonymous Message Preview
A feature request that often comes up when talking with our users is the ability to preview the anonymous message before it is being sent.
Some would like to avoid typos while others to pause and reflect on the perceived impact of their anonymous message.
Message preview is now available and it looks like this: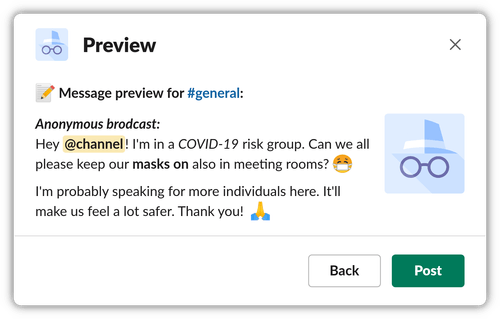 As you might have noticed in the YouTube video above, there's now a Continue button that leads to a Preview modal.
In addition to displaying how your message would render, as shown in the picture above, the Preview modal has a Back button which allows you go back and edit your anonymous message!
Comments and Thoughts
We're constantly striving to improve OpenSay and would very much appreciate your feedback. What could be better? Which feature is missing?
We welcome comments and thoughts on the tweet below, and kindly ask for a like, retweet or a follow to help us spread the word. Thank you!
⚡️ New features for @SlackHQ:

▪️ Preview & edit anonymous messages before posting them!

▪️ "/anon <message>" presets the current channel for you!

👉🏾 Read blog post: https://t.co/acxal7gbXe pic.twitter.com/WvSz32XfyS

— OpenSay (@OpenSayHQ) September 17, 2020
We'd like to thank @eranbrodet for reviewing this post.