Automatically Free for Educational Workspaces
You no longer need to apply! OpenSay is now automatically free for educational workspaces that are on Slack's Free Plan :)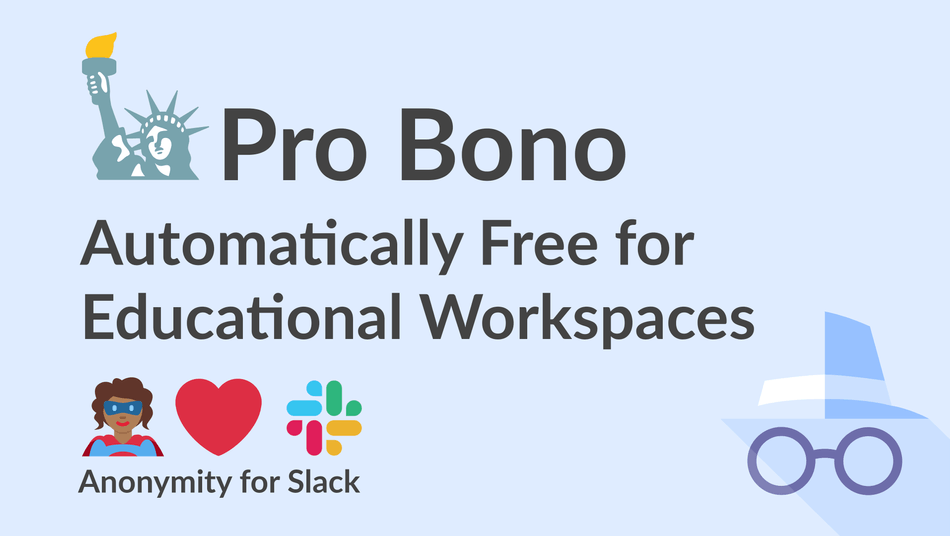 For years we offered OpenSay for free* for educational purposes, non-commercial organizations and open source projects. We called it the "Pro Bono" tier (you had to apply for it) and the main motivation behind it was to give back to society and get exposure to more users.
* For teams that use Slack's Free plan (i.e. not on Pro / Business or Enterprise).
We did not, however, anticipate how hugely successful the Pro Bono tier would become within academia - resulting in hundreds of teams from leading educational institutions, such as Stanford, MIT, Columbia and Berkeley to name a few.
Astounded by the positive reception, we decided to streamline the process and remove the need to apply by automatically detecting if a workspace is an "educational" one.
How to Get on the Pro Bono Tier
If you're a student, tutor, lecturer or professor (or anyone with an academic email address) simply install OpenSay by clicking on Add to Slack.
If you're a member of a non-commercial organization or an open source project please apply here.
How We Do It?
We simply detect if the installing user's email address belongs to an educational institution and that the workspace is on Slacks Free plan.
We've been students and lecturers ourselves and personally felt the communicational hardships affecting both sides (the fear of being ridiculed for asking a question, the moment no one asks questions - not knowing if they got it, etc.) and therefore think that more software should offer Pro Bono tiers for educational purposes.
For this reason, we decided to open source our software that automatically detects if an email domain belongs to an educational institution. Here's the GitHub repo:
Enjoy!
Comments and Thoughts
We're constantly striving to improve OpenSay and would very much appreciate your feedback. What could be better? Which feature is missing?
We welcome comments and thoughts on the tweet below, and kindly ask for a like, retweet or a follow to help us spread the word. Thank you!
⚡️ AnonymityBot is now automatically free for educational @SlackHQ workspaces! ✌️#Slack #University https://t.co/LxvWkLrhbA

— OpenSay (@OpenSayHQ) October 29, 2020