Verified Usergroups for Anonymous Authors
Allow anonymous authors to display their Slack usergroup!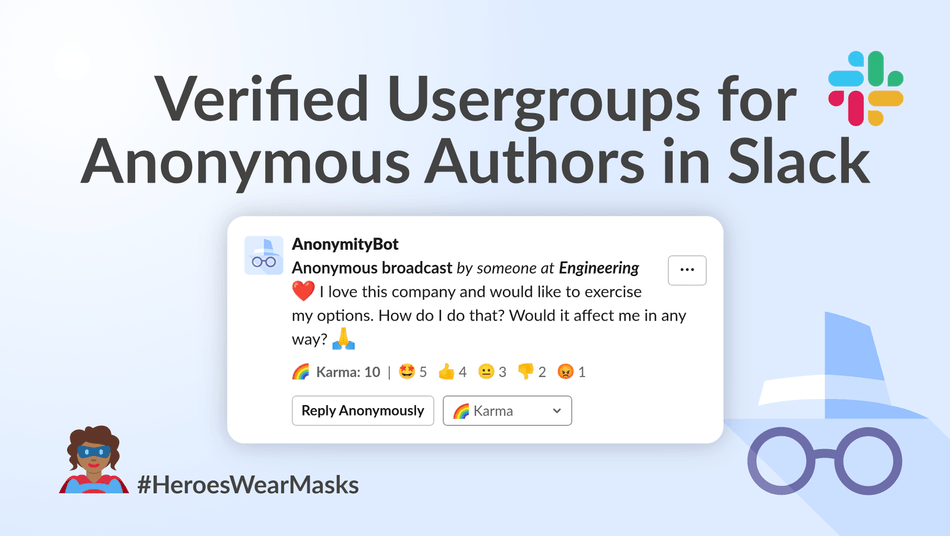 Anonymity allows ideas to be judged by their merit and not by the status of their originator. It levels the playing field because an anonymous author could be anyone within a company - the CEO, an engineer or an employee at a specific location - we simply don't know.
However, there are times an anonymous author would like to establish credibility or build context in a way that does not expose her identity. For instance, an anonymous feedback from someone that is verified to be from a specific location (e.g. Oslo office) or with a particular role (e.g. an HR person) would yield more relevant insights from others.
We are happy to introduce a new feature that allows anonymous authors to display a Slack Usergroup they belong to.
It looks like this:
Notice the someone at Engineering.
We would like to thank our customers, Mateusz Bijakowski and James Dear of iwoca for their valuable feedback that led to the creation of this feature.
How to Use It
The feature relies on Slack's Usergroups and therefore Slack admins need to make sure that members are adequately mapped to usergroups. For example, an engineer from Oslo may be mapped to both Engineering and Oslo Office usergroups.
For authors that belong to a Slack usergroup, the creation dialog of anonymous posts, replies, whispers and polls will have a Display Usergroup section with a drop-down list of usergroups one belongs to, sorted by the number of members - e.g. Engineering (23 users), Oslo Office (17 users), Executives (5 users).
For instance, the anonymous message creation dialog looks like so: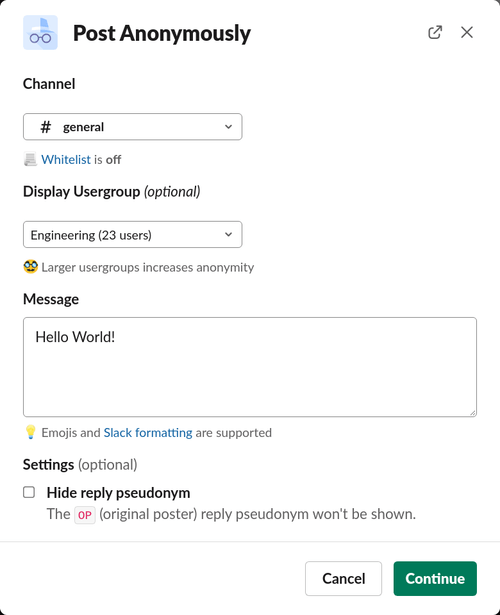 A user can choose No selection (the default option) to not display any usergroup.
Larger Usergroups Increases Anonymity
Being anonymous is being indistinguishable from others and therefore the larger the Usergroup the harder it is for others to figure out who is behind it.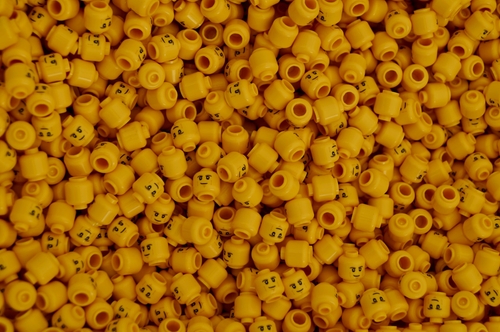 A good rule of thumb is to simply use one of the larger usergroups one belongs to.
Comments and Thoughts
We're constantly striving to improve OpenSay and would very much appreciate your feedback. What could be better? Which feature is missing?
We welcome comments and thoughts on the tweet below, and kindly ask for a like, retweet or a follow to help us spread the word. Thank you!
Verified usergroups for anonymous authors in @SlackHQ

Thanks Mateusz Bijakowski and James Dear of @iwoca for your insights that led to the creation of this feature!https://t.co/J7eKfCVAIa#HR #leadership #slack

— OpenSay (@OpenSayHQ) July 22, 2021